Description
Luxury Shaving Brush Made of Imported Boar Hair Give Comfort & Smooth Shave.
Feel the smoothness of shaving with Pearl Shaving Company's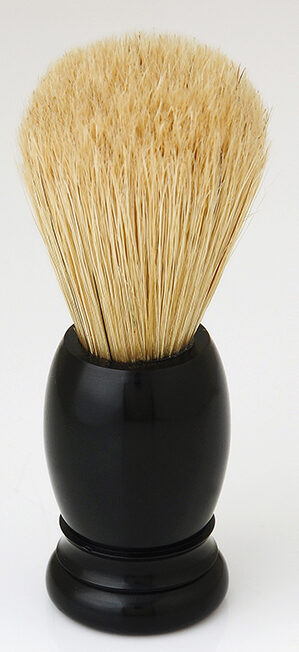 shaving brush. Crafted super-soft boar hair, it is whisper-soft on your skin and holds enough water to create a rich shaving lather with the shaving cream, softening, and lifting your whiskers for the smoothest possible shave. The brush is designed to last you a lifetime with proper care.
Brush Loft Size:  H 63mm  W 50MM     Brush Knot Size: 24.5mm   
Made with Super Soft boar Bristles
Crafted from super-soft Boar Bristles gives you the finest shave of your life. Their soft bristle glides elegantly on your skin to make your shaving experience a memorable one. Its soft bristle holds enough water to create a rich shaving lather with the shaving cream.
Handle Size: 35.5 mm
Black Resin Handle
The black resin Handle provides comfort and smoothness to your shaving experience. An ergonomic handle ensures a firm grip while shaving. The brush handle is made from genuine and designed to give an extremely elegant, easy handling, and Premium look.
Ultra Absorbent Quality & Softest Bristles

The Pearl bristles are Ultra soft and ultra-absorbent so that you can enjoy the smoothest feel and shave while using the least amount of water. The Pearl Shaving brush creates a rich lather and enables your shave to be much smoother, softer &  closer.

How to Use

1. Wet the brush. Start by running the brush under some warm water to saturate the bristles.

2. Add shaving cream or soap. Put a small amount of cream onto the middle of the bristles.

3. Work into lather.

4. Shave.

5. Rinse the brush.

Get Soft and Smoother Skin By Pearl

Brushes help build an amazing lather with the shaving cream which will soften the hair much more than just a hand making the shave seamless with no razor tugging or razor burn. Brushes help get facial hair to stand upright so the razor can shave off the hair properly.
Made of Imported Boar Hair
Black Resin Handle
Requires Little cream for Rich Lather.
Weight: 60 gm
MADE IN INDIA